WE LOVE CURLS!
Sadly not all hairstylists are comfortable with curly hair.
We feel it is crucial for the whole team to be educated in all hair types. We especially love showing tips and tricks to get more predictable curls and how to encourage wavy hair even when you're convinced your hair is straight and will always be straight. Here are our favourite do's and don'ts when it comes to treating your curls!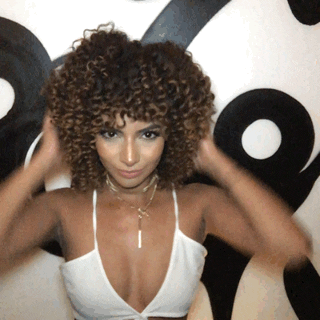 Curly hair in the shower:
Shampoo, rinse and repeat (only repeat if you wash your hair once a week), then use a mask or a hydrating conditioner & comb it through with your fingers or a wide tooth comb
DO NOT WRAP YOUR HAIR IN A TOWEL. Please, we beg you!
Lightly squeeze out excess water with your hands while scrunching the hair
Follow up with a microfiber towel and do the same motion
It is important not to dry your hair before applying products! Waves and curls need the maximum hydration they can get to form properly
Curly hair out of the shower:
Now it's time to apply your products. If it is beach waves you're seeking, we recommend  Sea Spray by AG. If it's more of a curl you are going for, try out Bounce.Me by Design.ME.
Tips on applying the product properly:
You're gonna apply your products on very wet hair in the same motion you used to squeeze the water out.
Make sure to apply it everywhere, from root to tip!
Follow up with a microfiber towel again
Then air dry or diffuse
Tips for diffusing:
Diffuse from the top down to discourage frizz
If you want volume, you can reverse that!
The hardest part of curly hair is maintenance between washing
Here's our 3 tips to keep your bounce:
Try using a spray bottle with water to wake up your curls in the morning! Spray lightly, re-crunch, and possibly add more product.
 Re-activating spray like Sea Spray (for fine straight hair) or a leave-in detangler (For dry curly hair) are your friends!
Completely re-wetting your hair without shampoo can give you a good boost, follow up with styling as usual